Attention parents, teachers, and anyone else who'd like to visit!
Yes, THE FARM/BARN BUDDIES RESCUE does offer field trips for school-age children in any grade, really. Even adults can still learn something out here on this fun-filled field trip and high school and college-age students will enjoy the variety of animals and the farm environment.
What Does a Field Trip to THE FARM/BARN BUDDIES RESCUE Include?
A bag of feed that can be fed to many animals
A tour with Q & A regarding rescued animals & an explanation of THE FARM and its operations
Opportunity to get up close with one or more animals . No one is allowed in enclosures
Choice of Farm Train ride or Hay Ride.

Please note that the train is only for groups with all children 50 lbs. & under

Access to the Amazing Maze
Answers, answers, answers…to all the questions we know they'll ask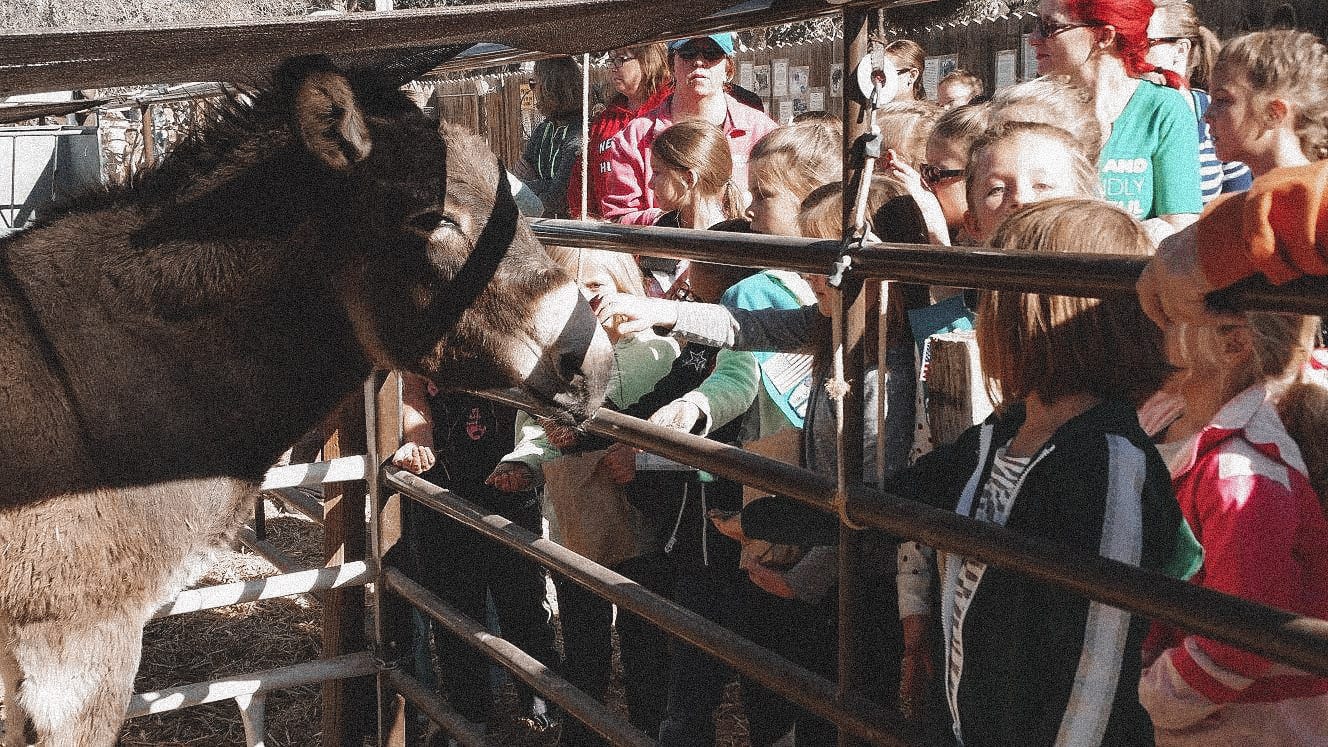 We've been open to the public for several decades now and we know how much the young and old alike enjoy THE FARM/BARN BUDDIES RESCUE and its inhabitants. And it's bound to be a field trip location your students are sure to talk excitedly about for quite some time after they visit. An abundance of teaching opportunities present themselves to you here, as well as lots of post-trip assignments.
And let's not forget another important point – We Are IN TOWN!
No need to set half the day aside for driving time just to get to and from our place. We're located on the Northwest corner of W. Grand Teton Ave and N. Tenaya Way at 7222 W. Grand Teton Drive Las Vegas NV 89131 and accessible via I95, the 215 and lots of major thoroughfares. Thus, no cranky kids wondering "are we there yet?"…
And speaking of which, one more note. THE FARM has a strict no-whining/yelling policy, actively enforced by Farmer Sharon, your tour director. Whining/yelling is not only disruptive to adults and other kids but, especially so to the animals. So, please let your class know that we expect them to be on their best behavior while here. Thanks in advance for that.
We hope you'll consider THE FARM for your next field trip and please don't hesitate to contact Farmer Sharon for additional information.  There is a 30 child minimum for all field trips.
Please carefully read all the relevant documents below so that we can make your experience at THE FARM as enjoyable as possible.  Each person coming onto the property, child or adult, needs to have a completed liability sheet.
Field Trip Individual Person Liability Sheet
Field Trip Information Sheet
Field Trip Group Payment Tracking Form